9 Frequently Ditched Items We Can Actually Make Money From
If you are dreaming about making a bunch of money, look in the attic or in storage where unwanted things are usually stored. Things collecting dust can be sold for pretty decent money at internet auctions. Maybe you are already a millionaire — you just don't know it yet.
Magicorama.com collected a list of old and not very old things that collectors are ready to pay for right now.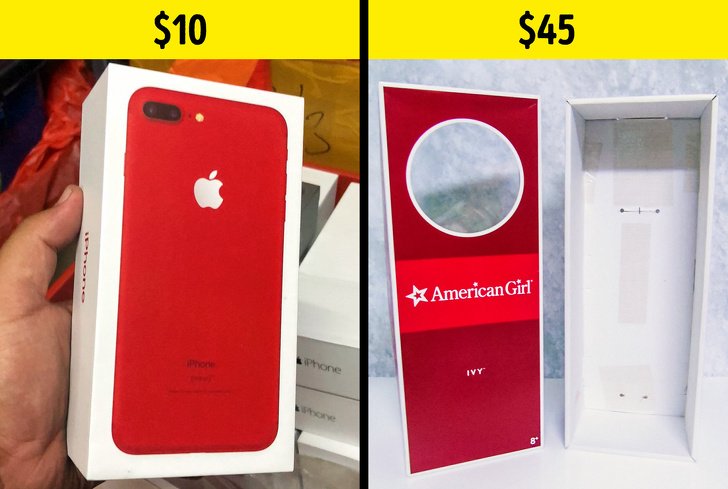 People all over the world are ready to pay money for ordinary things. For example, a seller on eBay estimated that an empty box from an American Girl doll would sell for $45. The question is — who needs it? It's likely that this thing will be bought by some collector who will resell it with a doll inside or simply put it on a shelf and feel happy for a successful purchase. You can even sell boxes from electronics and home appliances in the same way. Empty iPhone boxes are sold for about $10 on internet auctions depending on the model.
Vintage printed materials can cost a fortune. Movie fans are ready to pay enormous money for old posters, program booklets, and tickets. While the original posters from the time of the Second World War are estimated to be worth several hundred dollars by collectors. Of course, this doesn't apply to things that were mass produced.
#3
Discontinued products and foods with uncommon flavors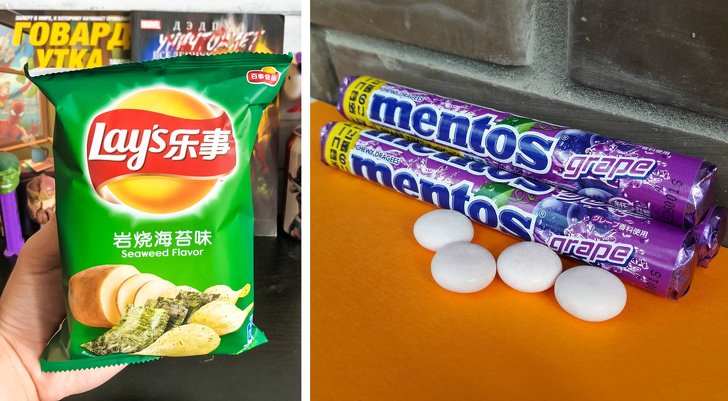 It's possible to earn money by selling discontinued products on the internet. But don't mix this up with expired products. Buyers are ready to pay any amount of money for hair dye, toys, and cosmetics. If you have something rare (not necessarily old), sell it. Also, people like to buy food with unique flavors. Here are some limited edition chips that sell for $12.
#4
Toilet paper rolls and Kinder Surprise eggs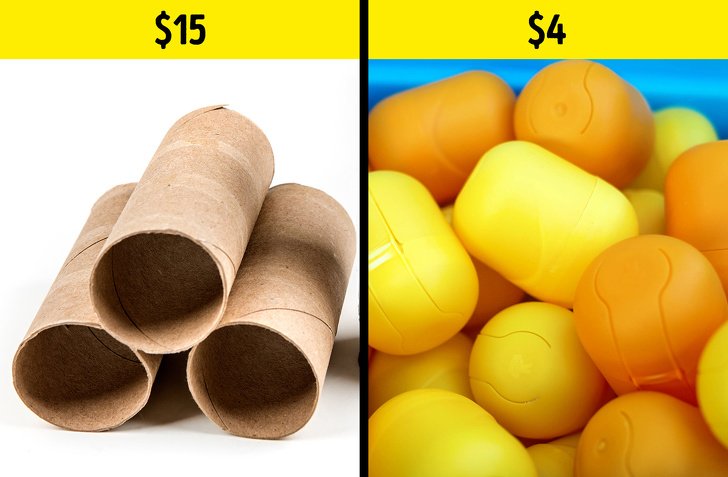 Don't hurry to discard toilet paper rolls and the capsules from chocolate eggs — there are people in our world who are ready to pay you for these items. A pack of 100 paper rolls costs $15 at an eBay auction, while 50 capsules from Kinder Surprise eggs can be sold for $4 on a big Russian buy-and-sell site. If you wonder who needs them, the answer is simple — fans of handcrafts.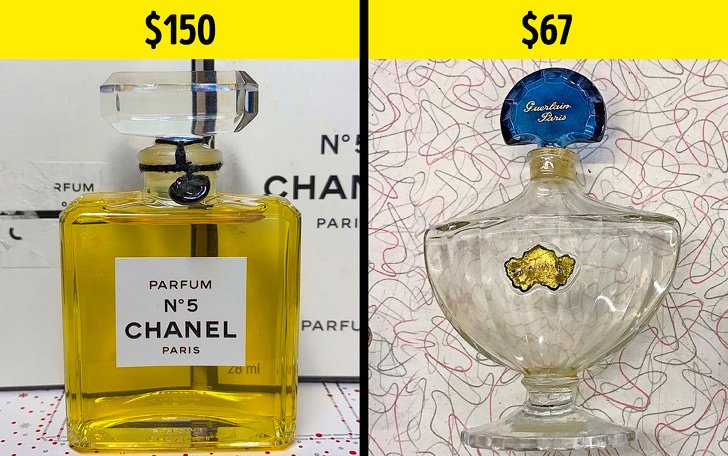 Fans of antiquity love cosmetics and perfumes from the past. Thus, perfumes from the 70s sometimes cost 10 times more than their new counterparts. The fans of European classics, for example, will often buy a vintage Chanel. However, if you were lucky to inherit some empty perfume bottles, don't be upset — sometimes old bottles cost more than the masterpieces of modern perfumers.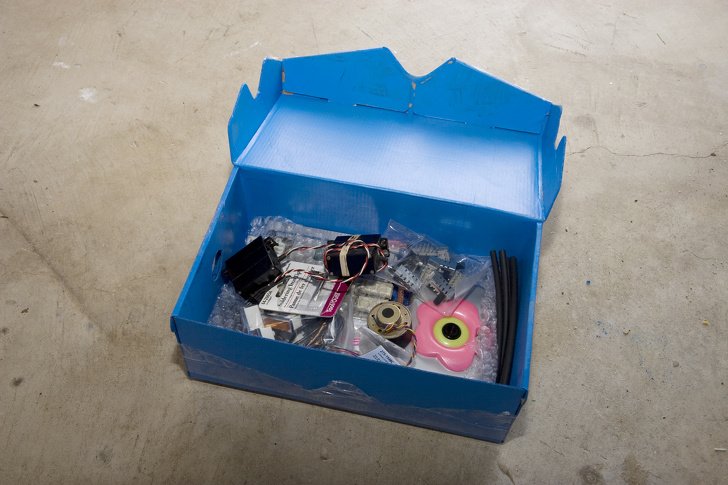 No kidding here. Buyers at internet auctions search for goods marked "junk drawer" willing to buy them. Something that one person might consider trash, can turn out to be a treasure for someone else. Boxes with trash sometimes contain precious things like old tools, key chains, and coins. For example, this box with plastic jewelry recently sold for $22.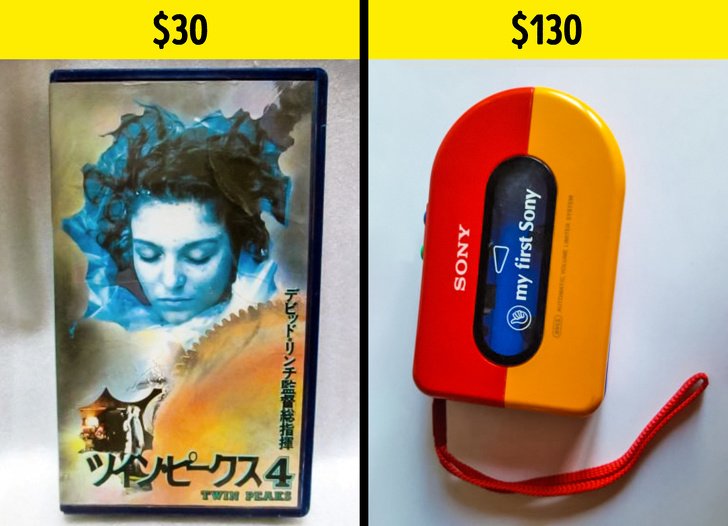 The era of cassette players, VHS cassettes, and boomboxes has already passed but the interest in these items is still there. Do you remember the boomboxes our dads used to walk around with on streets? Today, these can be sold for $400. People buy them as collectibles or to repair.
In the 80s, film companies produced some films videotape which is why today collectors buy VHS tapes for really good money. Even if the movies recorded on them are total trash. So blow the dust off your collection — there might be a diamond hiding in your home that you didn't even know about.
#8
Sport shoes and sneakers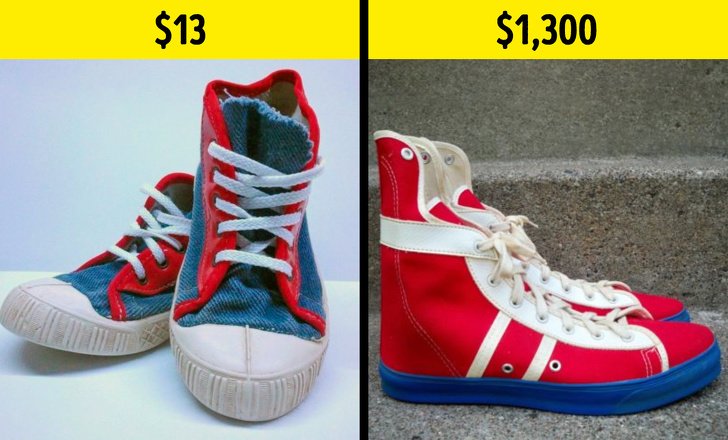 Vintage shoes are Klondike for those who decide to make money by selling old things. Sports shoes from old Soviet factories start their prices at $13, while legendary Chuck Taylor Converse cost more than new designer shoes. For example, this model from the 70s costs $1000.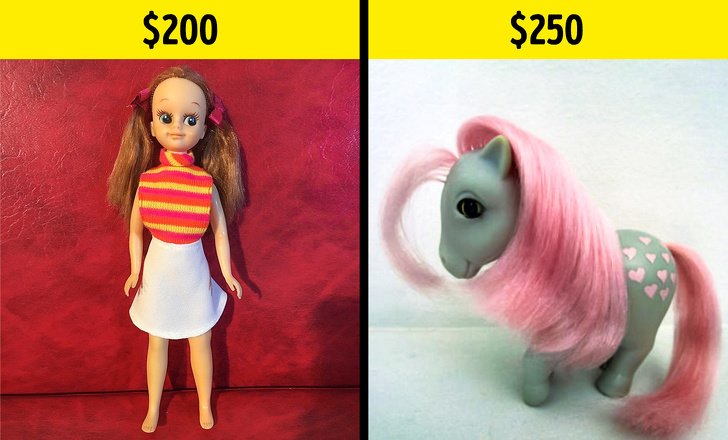 Collectors are ready to pay a lot of money for the toys of your childhood. And those are not rare porcelain dolls from the late 19th century but bald baby dolls and rubber ducklings from the 70s and 80s. People suffering from nostalgia are ready to pay $200 or more to get these toys back into their life.
However, things are not always certain with toys. Sometimes nice and bright dolls will only earn the seller a couple of dollars, while vintage PEZ dispensers will sell out at auctions. For example, a rare sample from the year 1982 was sold at auction for $32,000.
Have you ever tried to sell something on the internet? Please share your experience with us in the comments!