15 Acting Duos Who Often Film Movies Together, and We're Happy to See Them Too
You've probably noticed that some famous actors quite often appear together in different movies. Very often their mutual work becomes a real breakthrough in the careers of both actors. For example, this is exactly what happened to Ryan Gosling and Emma Stone. Moreover, such a partnership on-screen might become the beginning of a long-term friendship and an impressive artistic union.
Magicorama.com gathered the most famous on-screen "couples" that often appear in movies together. And it looks like they made each movie they starred in even better and more interesting!
#1
Adam Sandler and Rob Schneider
Adam Sandler became a successful comedian in school. Later, he established his own movie company, Happy Madison Productions, and invited Rob to participate in a mutual project. Off the set, they're good friends and that's why when they shoot a movie, they improvise a lot and add many unscripted jokes and new lines. Adam and Rob starred together in 18 movies overall.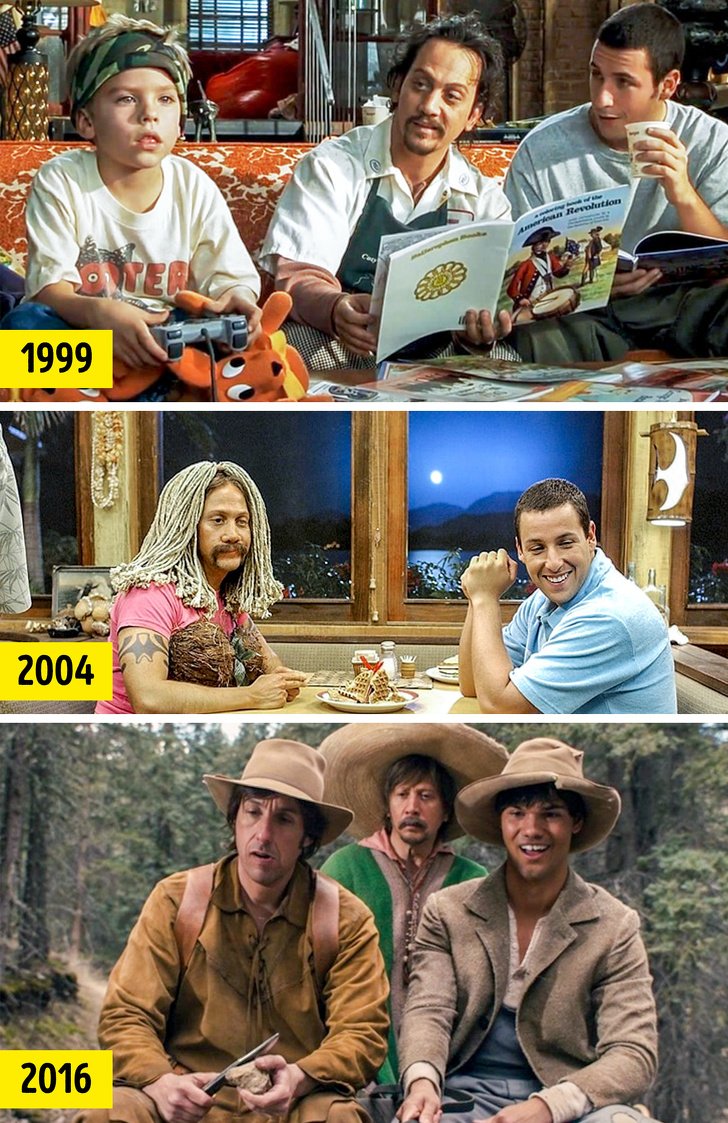 #2
Bradley Cooper and Jennifer Lawrence
Before the beginning of the shooting of Silver Linings Playbook, Bradley Cooper and Jennifer Lawrence had to attend 5-hour-long dance lessons for 2 weeks. The actor characterized his relationship with Jennifer as: "I love Jennifer. I'd play with her in any movie." Later, the actress insisted on casting Cooper as her partner in her new movie Serena.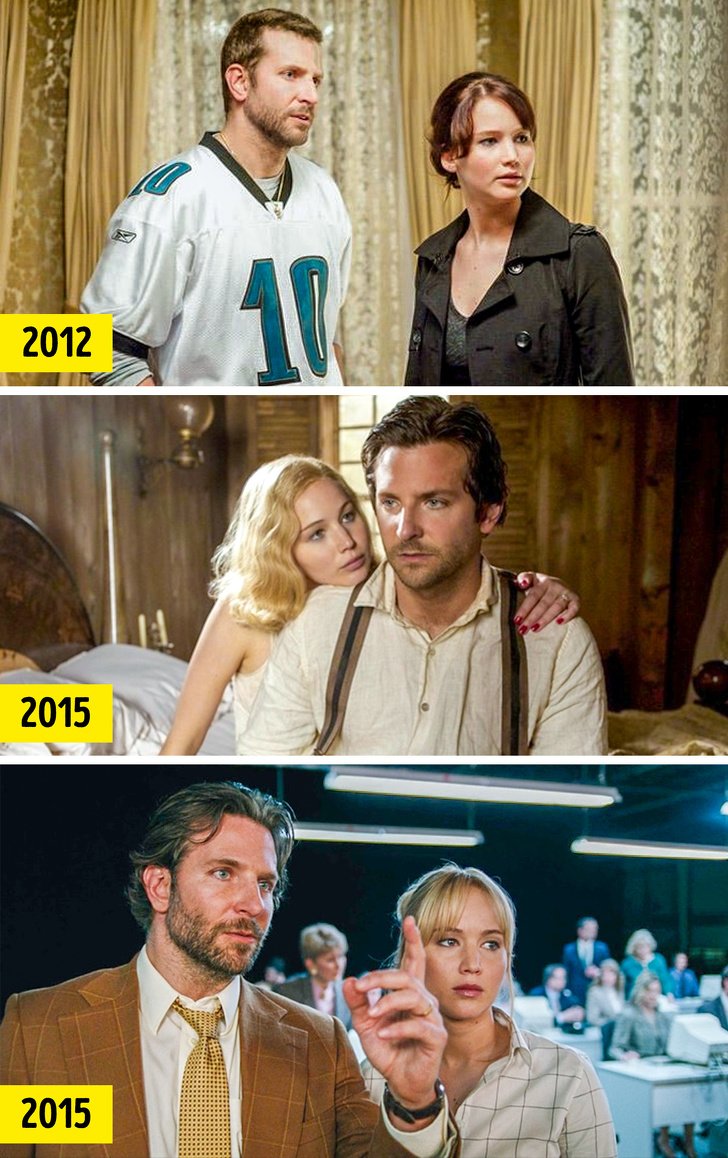 #3
Ryan Gosling and Emma Stone
This acting duo started in 2011, during the shooting of Crazy, Stupid, Love. Ryan Gosling and Emma Stone have acted as a couple in love 3 times already. Their best result was the Award Winning movie La La Land. Curious to note that the leading parts of Mia and Sebastian should've been played by Miles Teller and Emma Watson.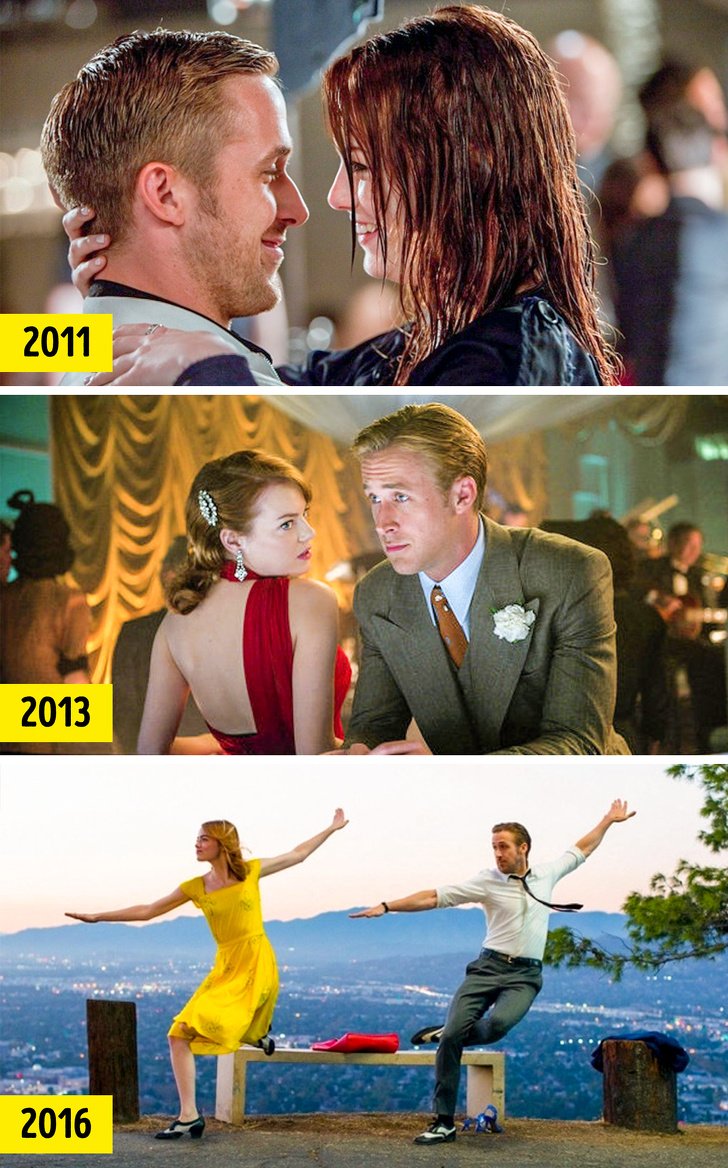 #4
Marion Cotillard and Guillaume Canet
Marion and Guillaume met on the set of drama Love Me If You Dare. They'd already filmed 4 movies together and voiced the cartoon The Little Prince. Interestingly, Guillaume invited Marion to take part in his projects — drama The Last Flight and comedy Rock'n Roll.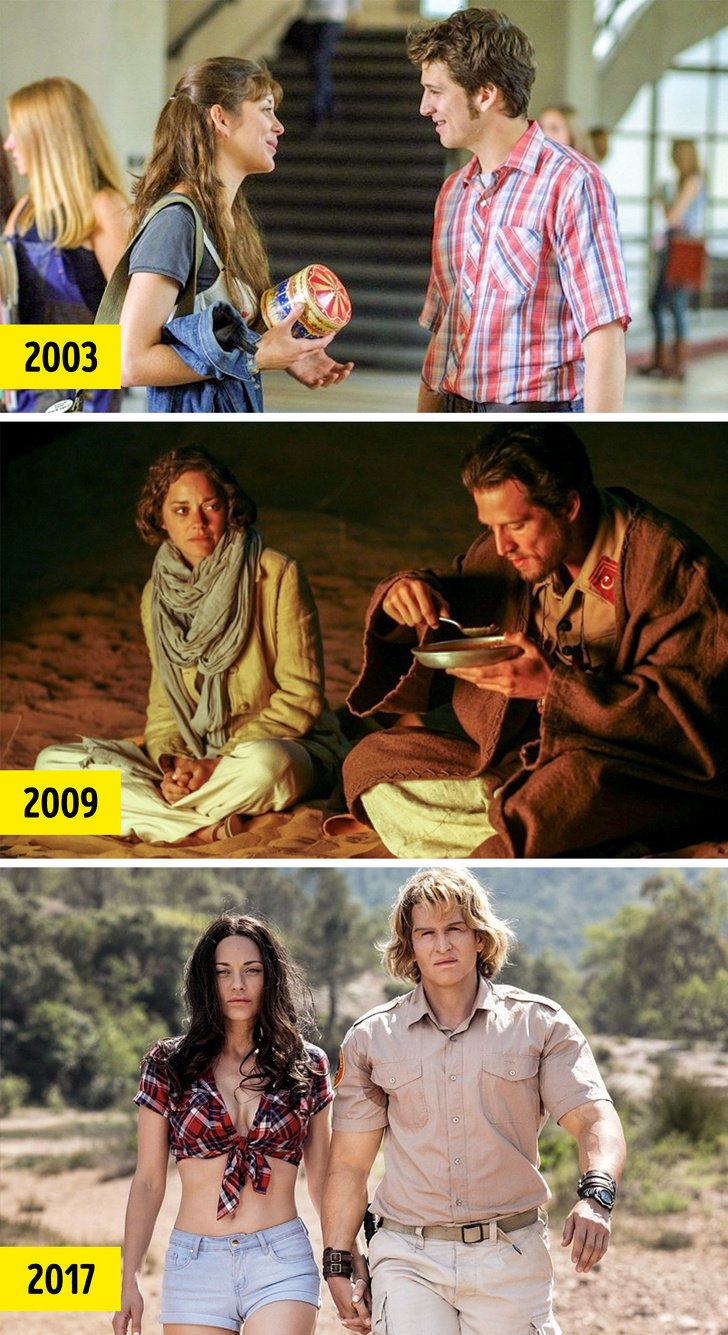 #5
Ben Stiller and Owen Wilson
It's probably one of the brightest and easily recognizable acting duos of the modern cinema world. The actors first met during the shooting of The Cable Guy which was directed by Ben Stiller. At that time, Ben Stiller was much more popular than his colleague; he often invited Wilson to different projects and has a lot to do with Wilson's successful career development. They starred in 11 movies together.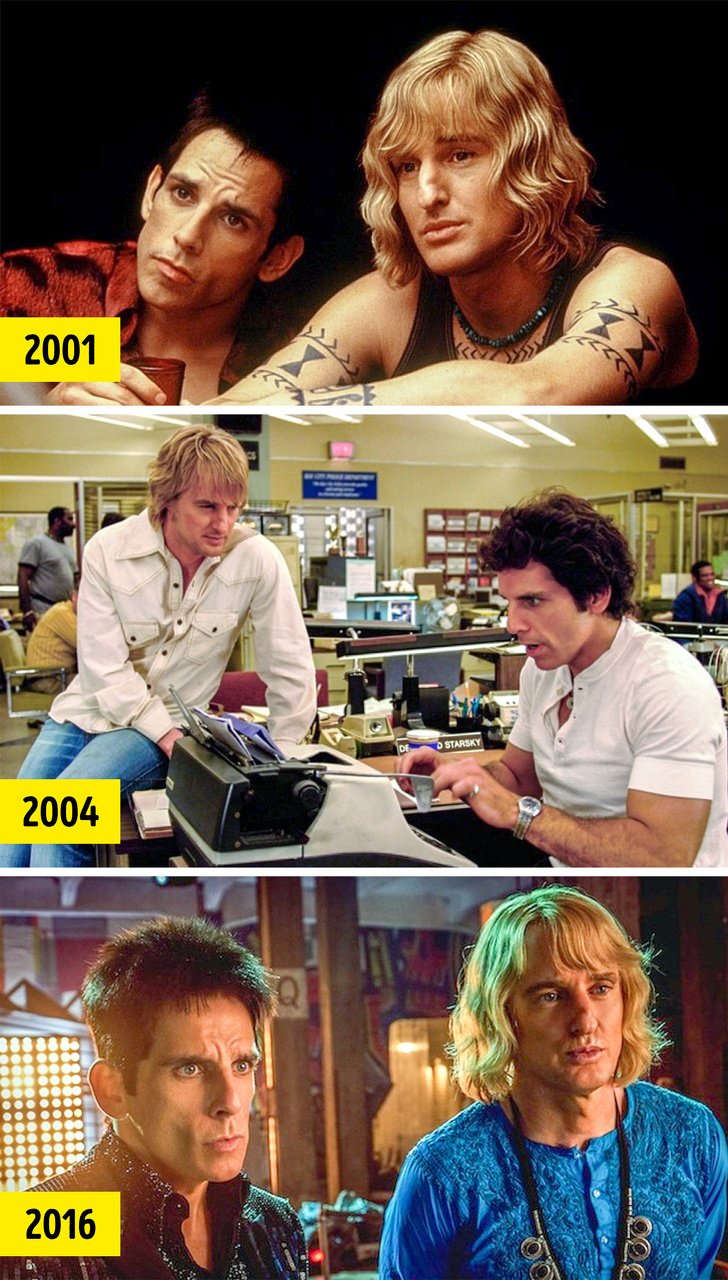 #6
Johnny Depp and Helena Bonham Carter
An extravagant movie couple can't be imagined without director Tim Burton who is also Carter's ex-husband and Depp's close friend. The actors took part in 7 mutual projects and only one of them, The Lone Ranger, was directed by another producer.
#7
Kristen Stewart and Jesse Eisenberg
Kristen Stewart and Jesse Eisenberg met on the set of melodrama Adventureland. Jesse once said that he was a quiet kid and a very shy boy who didn't have many friends; that's why he's very thankful to Woody Allen for the possibility to be part of an unrealistic relationship on-screen. He was talking about melodrama Café Society, where he and Kristen played a couple in love.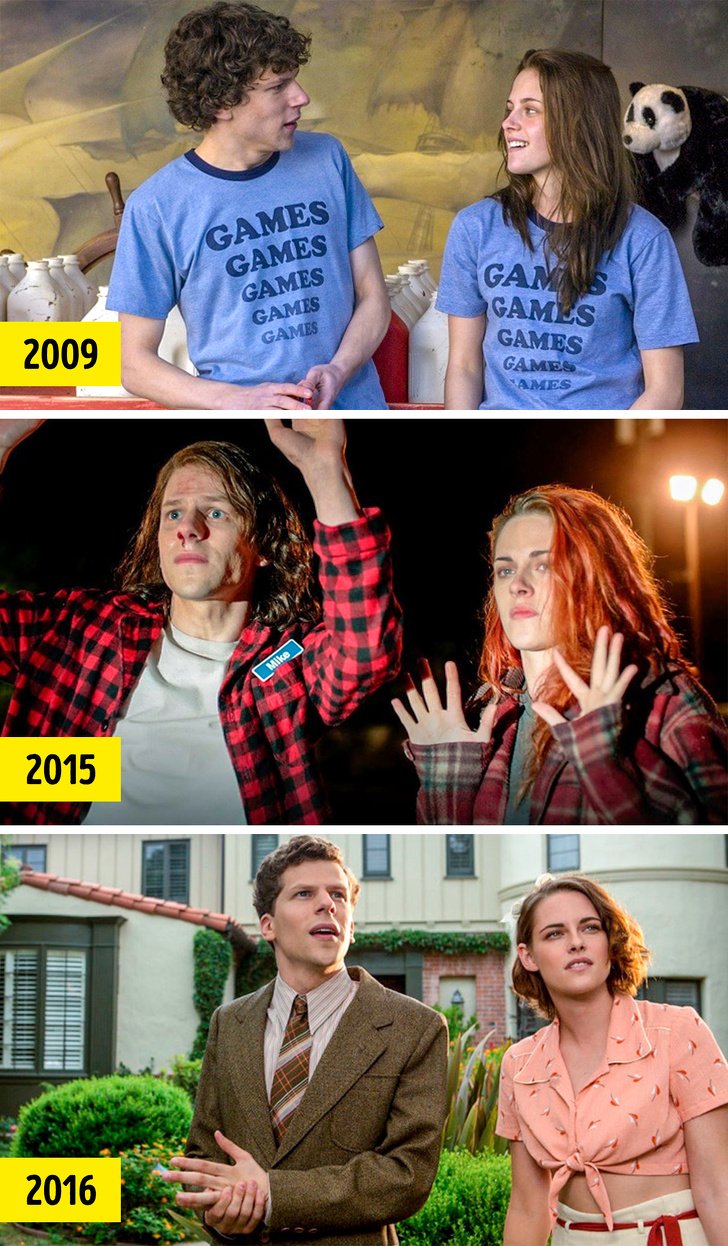 #8
Shailene Woodley and Ansel Elgort
For a while, Shailene and Ansel were considered one the most romantic Hollywood couples. After The Fault in Our Stars aired, people thought the 2 were having an affair, just like they did on-screen. The actors even had to make an official announcement that they weren't dating; you could only see them during social events and official gatherings.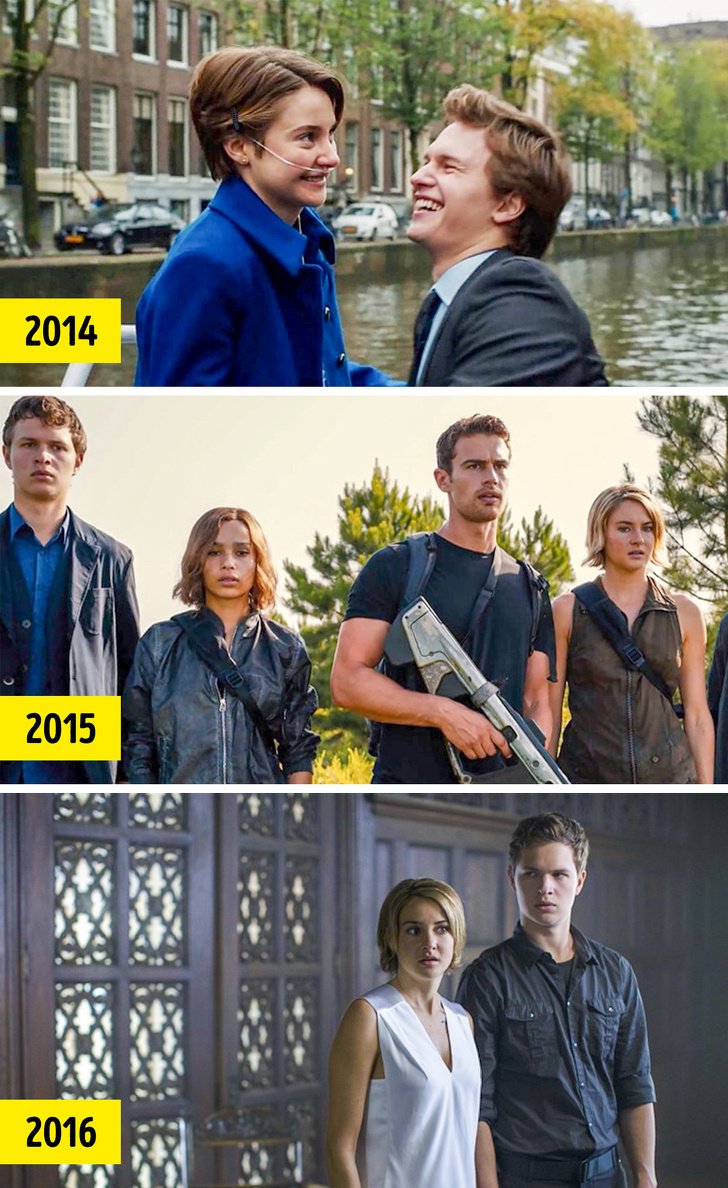 #9
Matt Damon and Ben Affleck
Matt and Ben became friends when they were both just 10 years old. While being young amateur actors, Matt, Ben, and Ben's younger brother Casey spent a lot of time on actors' auditions. The success came after the movie Good Will Hunting; they wrote the script for it and played the main characters. Matt and Ben took part in 9 mutual projects.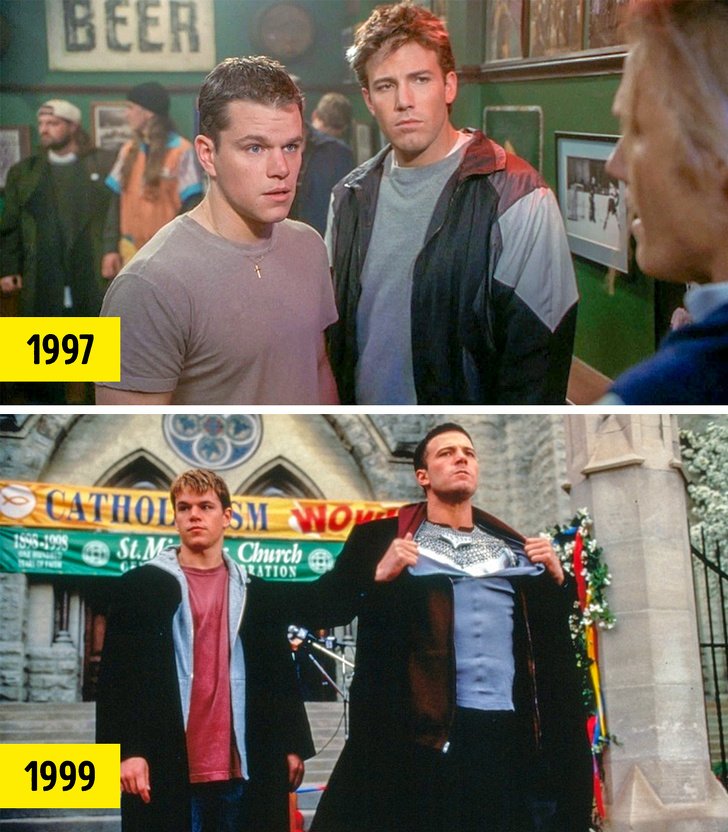 #10
Chris Evans and Scarlett Johansson
Chris Evans and Scarlett Johansson met long before they became famous heroes of the Marvel universe. Today they're good friends. It all started on the set of the melodrama The Nanny Diaries. Plus, the press never considered these 2 a romantic couple because they set strict boundaries from the very start and behaved like brother and sister in public. The actors starred in 7 movies together.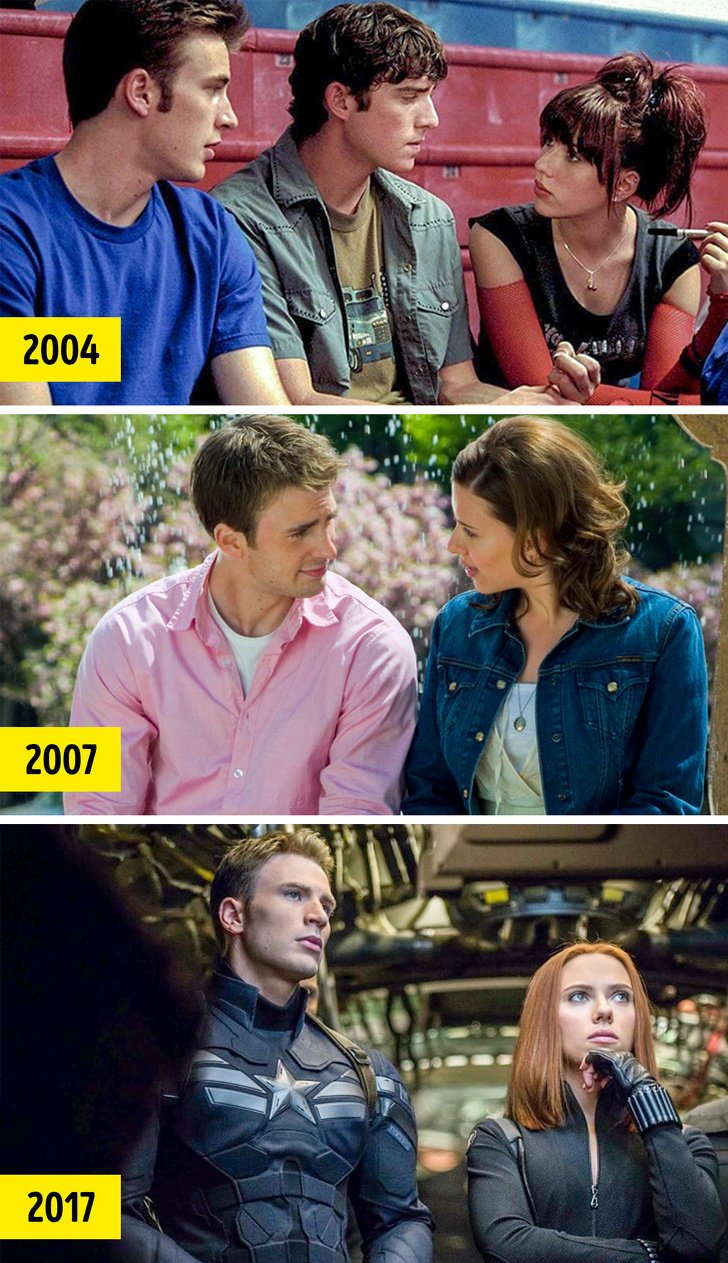 #11
Vince Vaughn and Jon Favreau
A famous comic duo of Vince Vaughn and Jon Favreau is long-established. The actors met on the filming of the sports drama Rudy. The fame hit them after the drama Swingers came out. Later Favreau invited Vaughn to star in his director's movie debut — Made, and Vaughn invited Favreau to his own TV show. They starred in 7 movies together.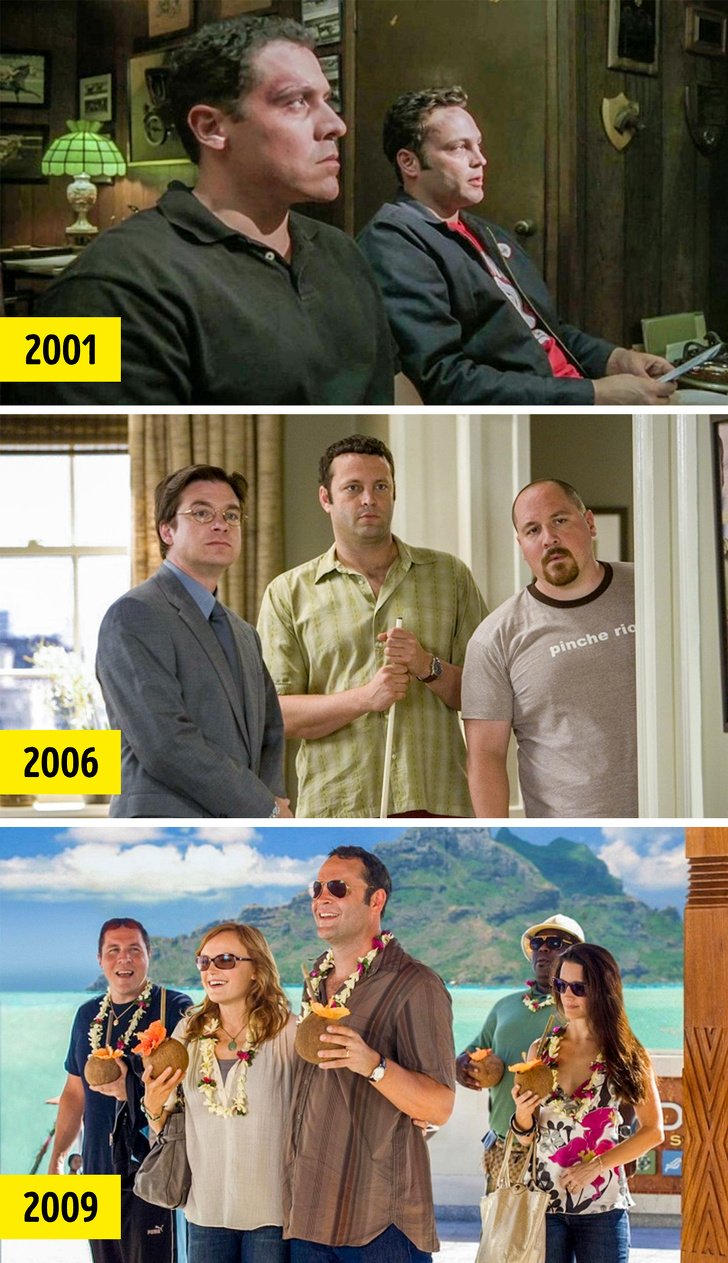 #12
Drew Barrymore and Adam Sandler
Drew Barrymore and Adam Sandler played loving partners many times. The Wedding Singer was their first mutual project. The movie with a quite simple plot about how friendship can turn into love was appreciated by movie enthusiasts all over the world. The actors became really good friends; Adam even sang a song at Drew's wedding reception.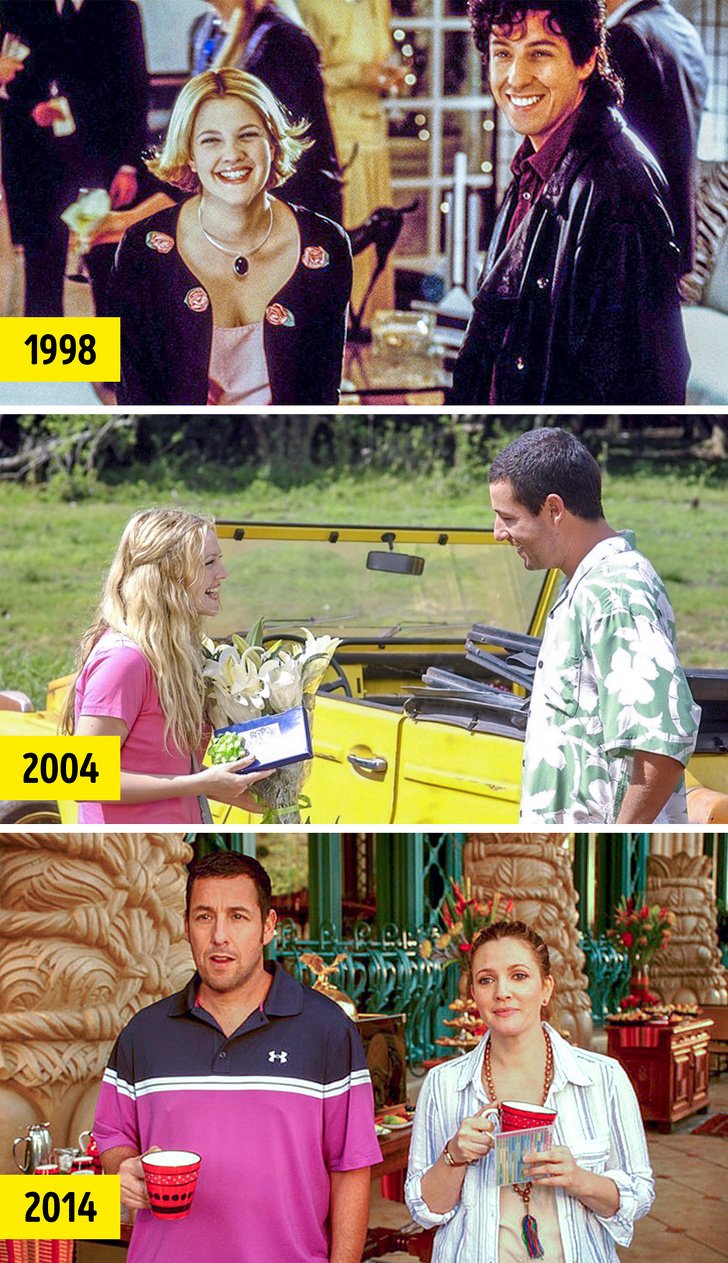 #13
Al Pacino and Robert De Niro
The first movie where Al Pacino and Robert De Niro starred together was The Godfather. Interestingly, they were never in one scene. De Niro played the part of young Don Corleone while Al Pacino was his older son Michael Corleone. The next time they shared the set was during the filming of the police thriller Heat. Their mutual scene lasted only 7 minutes but it received many great reviews. In 2019, Martin Scorsese's The Irishman is coming out where the actors play the leading roles.
#14
Seth Rogen and James Franco
The friendship between Seth Rogen and James Franco began when they were young — during the filming of the TV show called Freaks and Geeks. After that Franco starred in several Rogen's projects, sometimes even in tiny comic episodes. Their first comic breakthrough was Pineapple Express where the friends played the main characters. As of today, their last mutual project was The Disaster Artist that was based on real events; the movie tells a story about the filming of the controversial movie The Room. In total, they have 9 common projects.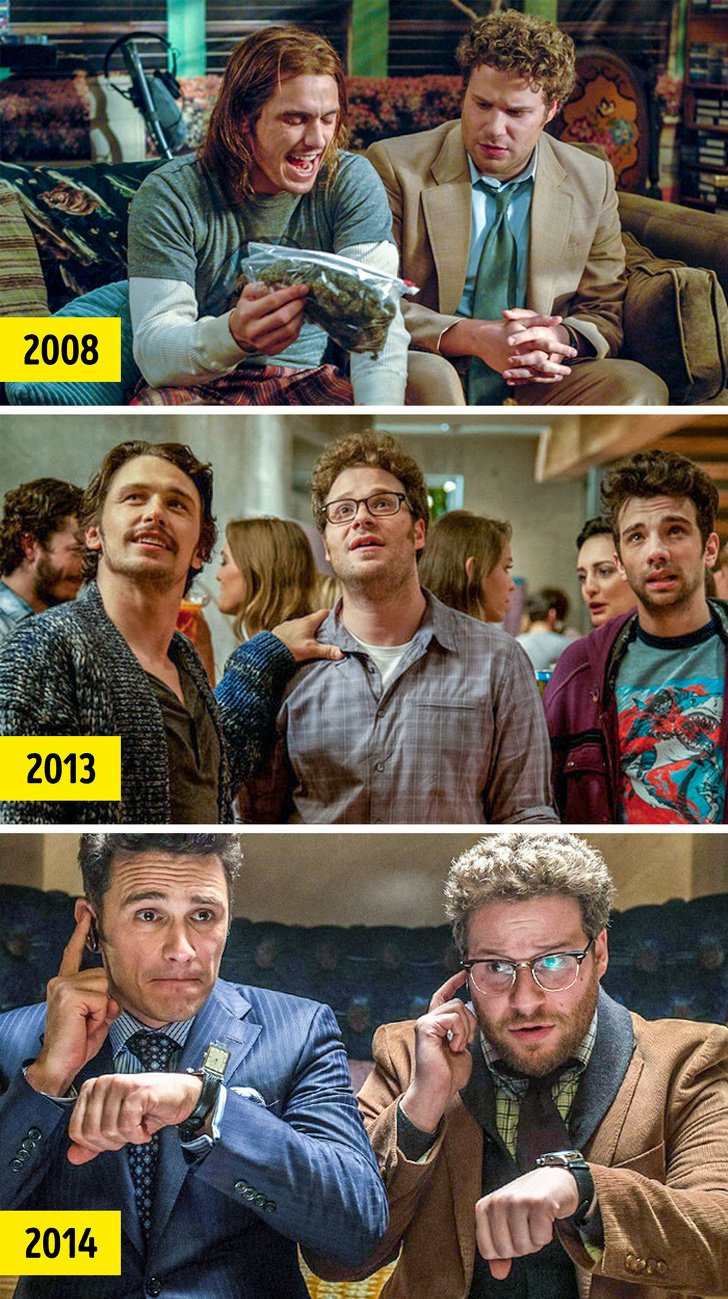 #15
Matthew McConaughey and Woody Harrelson
The friendship of famous actors began on the set of Edtv. Being true friends in real life, 10 years later, they again met during the filming of Surfer, Dude. However, the fans of both actors could really appreciate their acting skills and the power of the union when McConaughey and Harrelson starred in the first season of the crime drama True Detective that came out in 2014.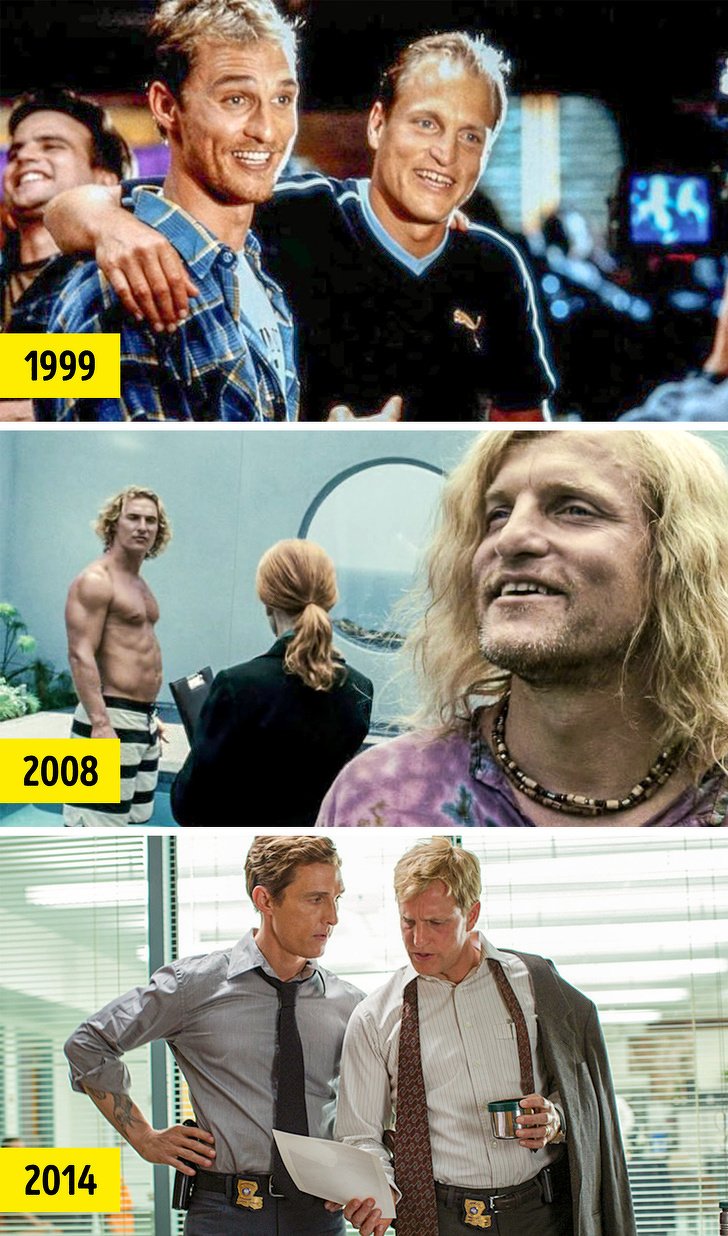 We hope that your favorite actors will continue to amaze you with mutual projects. It's not a secret that the key factor that attracts people to the movies is the cast of leading actors. If the favored duo takes part in another movie, it will definitely be a success. We're sure such movies will be long-awaited and bright events. What TV couples and duos do you like the most? Share your opinion with us in the comments.